Pre-School & Primary School
Gillighan's World, The Field of Dreams, offers fun, exciting, and educational trips out for Toddlers and Pre-school children, Primary Schools and Summer Camps in a beautiful and natural environment. As you explore our faerie gardens you'll find fascinating flora and fauna in abundance and a host of pond and wildlife to discover.
The "Discovery Quiz" is a great team building exercise for all involved and a map will be provided to help you find your way around. Smaller groups like to explore together, but with larger groups the children can be split into smaller units.  Each team will select a team leader and choose a name for the group and then have a fun-filled competition with each other. All activities are age-appropriate so there's something for everyone. With 4 acres of faerie gardens and faerie dwellings, a miniature lake, streams and waterfalls, and a magic glade, there's a surprise around every corner.  And who wouldn't love to make a wish in a Faerie Fort overlooking the stunning Ox Mountains or visit a leprechaun's cave as you search for clues.
Picnics can be so much fun, so bring your own. There are plenty of outdoor picnic areas or you can use the indoor Rainbow Tea Rooms and "top-up" on any extras you may need.
Children love to spend time in our little pet haven where they can meet our animal friends and learn about what they need and about their lives. We encourage understanding and awareness toward our furry and feathered friends, and that love and kindness can be shared by all living things.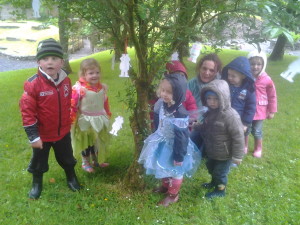 Don't forget you can:
Make a wish in the Faerie Fort
Post a message to the Faeries
Hang your Faerie Wish Card on the "Wishing Tree"
Parents, teachers and carers often return with their families or friends to enjoy the magic and tranquil ambiance of The Field of Dreams. We are always delighted to see you again and thank you for your continued support.
Additional on-Site facilities:
Rainbow Tea Rooms and Sweet Shop
Crock of Gold Gift Shop
Faerie Library
Toilet Facilities
Free Parking for Cars and Coaches
2016 Prices
€6.00 per person for 2 hour visit
 1 adult free for every 10 children
For bookings / further details, please Contact Us:
Summer Camps
A perfect trip out for Summer Camps of all kinds.
Its fun, idyllic, safe and interactive.
With  facilities for refreshments OR PICNIC FRIENDLY
It is an ideal attraction that can  "stand alone", or be linked with other events on your programme.
Fantastic Group Rates are available for all Summer Groups.
Contact Us: with your requirements, and we can work with you to cover your needs and ensure everyone has a great time. Pre booking is essential.
For bookings / further details, please Contact Us: